Stats

Esbjerg FB- 107 matches, 19 goals
SC Heerenveen- 66 matches, 3 goals
AGF- 57 matches, 10 goals
AS Monaco- 17 matches
FC Midtjylland- 195 matches, 31 goals
Denmark's National team- 35 matches, 2 goals
Short introduction
Jakob Poulsen started playing football at 5 years old in Næsbjerg and stayed there until he, as a second year under-17 player, left for Esbjerg FB. He gained his Superliga debut in Esbjerg FB in 2004, where he helped secure third place, and the bronze medal. In 2006 he was sold to SC Heerenveen in Holland, he was based here until 2008 where he hereafter switched to AGF. In 2010 he made the switch to FCM, and has been here ever since, with the exception of the 18 months from 2012 to January 2014 where he played at AS Monaco.
What are some of the most positive experiences of your career?
Participation at the European Championship in 2012 and the World Cup in 2010.
Being sold to foreign clubs twice.
But the most positive experience has to be winning the Danish Superliga in 2015 with FCM
What is one of the most negative experiences of your career?
Relegation with AGF in 2010.
Being injured during the World Cup in 2010.
Is there anything you would change in your career?
I have had a lot of regrets of turning down a switch to Lazio in January 2010. But there were way too many uncertainties and the World Cup was coming up which I didn't want to miss.
You are 35 years old- you still play every match; you are a high profile in the Danish Superliga and in many ways crucial to the team- How can you keep going and for how long?
I think my body was somewhat made to play football, but of course you have to stay in shape. It has become harder and harder as the years go by, but when you still think it's fun, things tend go a bit easier.
My contract is valid until July 2019, so I expect to finish that contract.
You are known for your fantastic set piece situations – How much of that is training and how much is talent?
10 % is talent and 90 % is training. We train set piece situations a lot with FCM, a minimum of 2 times a week.
Do you remember the last time you missed a penalty kick?  
Yes, I do remember because I have only ever missed one penalty kick in my entire career. It was a 0-0 game in the Danish 1st Division against VB.
Do you see yourself in the football world when your active career stops?
Yes, I do. But what kind of position I don't know yet. 
You use LiiteGuard both for training and in matches, but you have also chosen to invest financially in LiiteGuard- why is that?
It's a fantastic product. Great quality, the pocket for the shin guard is fantastic. The antislip functions under the foot make sure that i don't get blisters as well.
What is your goal for 2018?
To become Danish champion and possibly join the team at the World Cup if the opportunity arises.
Tell me one thing about yourself that the Danish Football world doesn't know?
I like to cook and consider myself to be quite good at it.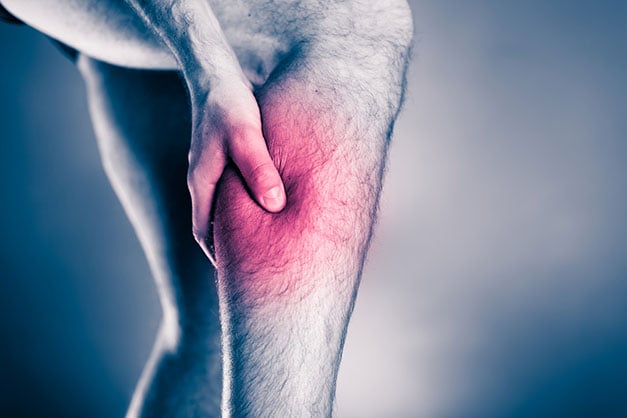 The muscle soreness after training goes by the term DOMS (Delayed Onset of Muscle Soreness), and it is a perfectly normal and familiar phenomenon when you either start a new type of workout, increa...
Read more
FODBOLD
Nicklas is a trained consultant specialized in sports psychology and works with players and coaches in the Danish Superliga and the Danish 1st Division, while also being part of the crew assisting...
Read more