MERINO PRO-TECH
Sale price

€37,00
Regular price
(/)
Take your sport to the next level with these functional merino wool socks. Get maximum support around ankle and achilles tendon in merino wool, which at the same time ensures optimal warmth and breathability. The sock strategically placed silicone elements gives you a better footing in your shoe, and helps prevents blisters and runner's toes. Especially suited for sports with quick changes of directions.
Compression

Our MERINO PRO-TECH is a compression sock designed with graduated compression. The compression is tightest at the foot and decreases as it gets towards the top of the sock. This function ensures an optimal flow of blood back to the heart, so you can perform at your best.

Ankle protection

The sock is designed with small silicone spots placed by both ankles. The placement of these silicone elements cover the ligaments and ensures an increase in blood circulation in this area, which at the same time affects your sensory feedback. The sensory feedback affects your reaction time and enhances your stability and joint control.
The silicone ensures the sock fits correctly, and provides you the maximum support and comfort during your entire training or match.

Achilles tendon compression

The sock has been developed with an additional compression directly at the Achilles tendon, to support this tendon which is subjected to constant vibrations during physical activity.
Studies show, that a higher degree of compression directly at the Achilles tendon can reduce pains during and after activity, as well as reduce possible swelling.

Anti-slip sole

The sole for the sock has been designed with a repeating silicone pattern, stretching from the toes to the heel. This silicone increases the friction to the sole in your footwear, ensure a better grip and a better contact with both your footwear, and the surface you are on.

Merino wool

The sock has been produced in 23% merino wool. Merino wool generally possesses the traits of being warm and breathable. At the same time, merino wool also possess extreme moisture wicking capabilities, which can help regulate your body temperature.
KEY FEATURES

- Gradual compression to ensure optimal blood flow

- The sock has been produced with 23% merino wool

- Anatomical fit, which follows the form of the foot

- Ankle technology, which increases blood flow in the area around the ankle

- Achilles tendon compression to alleviate pains during and after activity

- Anti-slip sole to ensure a better footing in your footwear

- Moisture wicking materials ensures optimal transport of sweat

- Sensory feedback which helps the brain register the motions of the body and affects your stability before and during a twist

- Mechanical support to help prevent ankle injuries

- Do not tumble dry
DELIVERY AND RETURNS

Shipping

Orders are ususally delivered within 1-4 working days depending on your location.

If you order before 13:00 GMT+1 we ship your package the same day (except on bank holidays).

Free shipping on orders of 60€ or more.

30 days satisfaction guarantee and free returns

We offer 30 days satisfaction guarantee for your order, as well as free returns.
MERINO PRO-TECH
Sale price

€37,00
Regular price
Choose options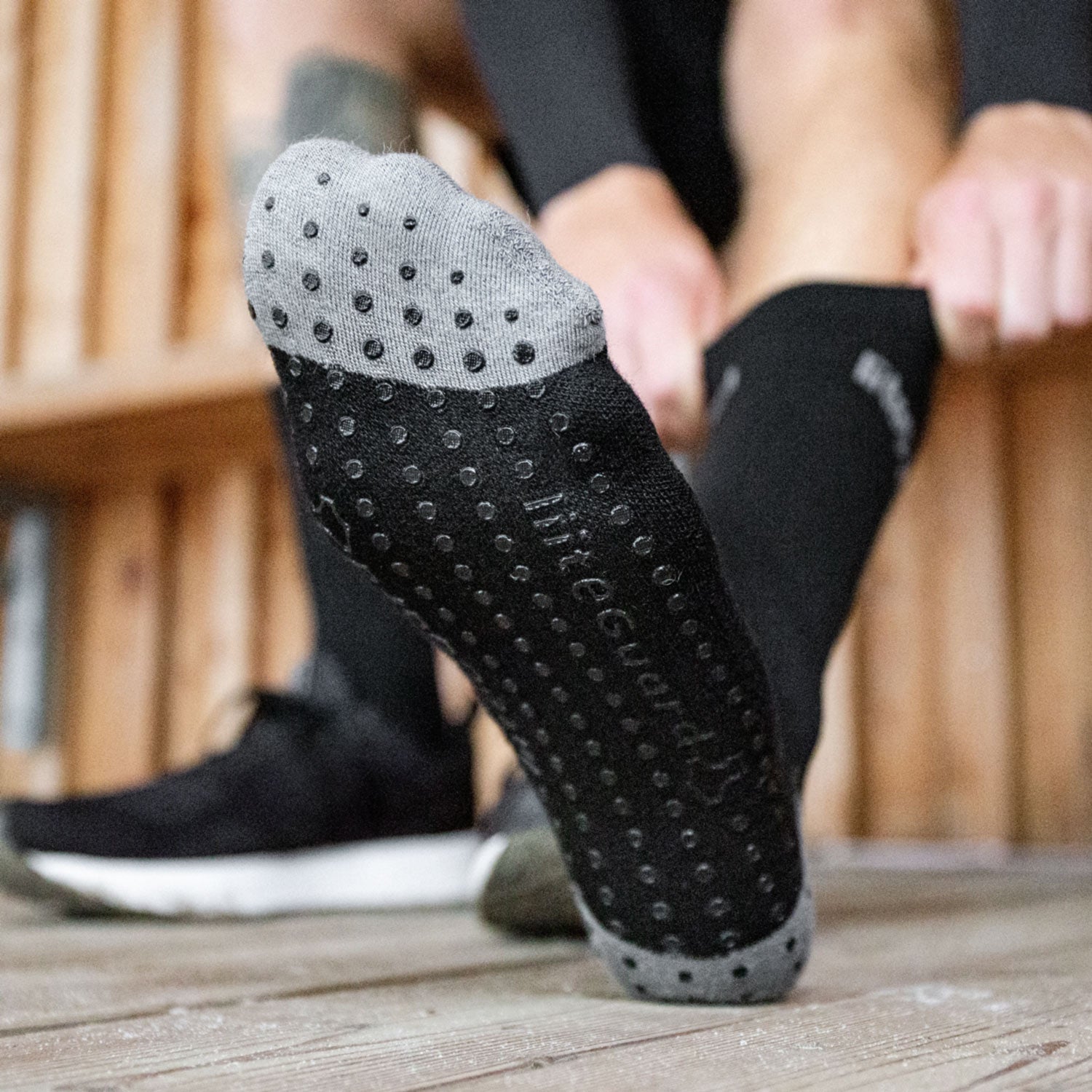 The sock has been produced
in 23% merino wool
Merino wool ensures a natural regulation of temperature, so you feet are comfortable in any weather. Merino wool is known for it's breathability, moisture wicking and it's odour resistance. Furthermore, merino wool is gentle against the skin, and combined with the other features in the sock, can help reduce the risk of pains and blisters, while enabling a great experience, no matter the weather.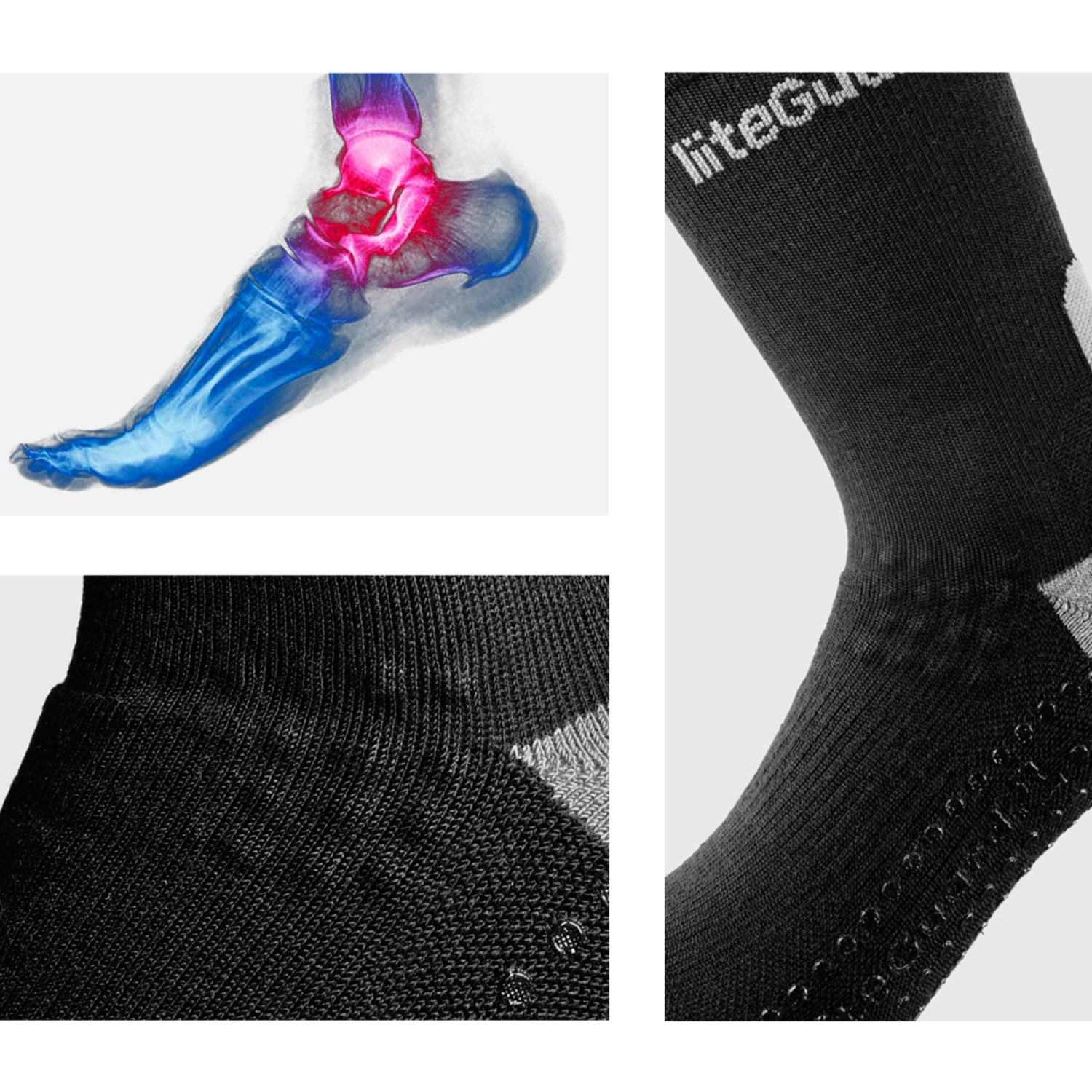 Specially developed
To protect against ankle injuries
Ankle injuries make up a large amount of sports injuries. With this in mind we created our MERINO PRO-TECH based on the essential aspects for protecting the ankle: Mechanical support and sensory feedback.
Varma och sköna
Perfekt strumpa för vinterlöpning. Sköna och håller fötterna varma.
MERINO PRO-TECH!
De sidder godt på fødderne og de holder mine fødder varme.
Super produkter og service
Super gode produkter og hurtig levering hver gang.